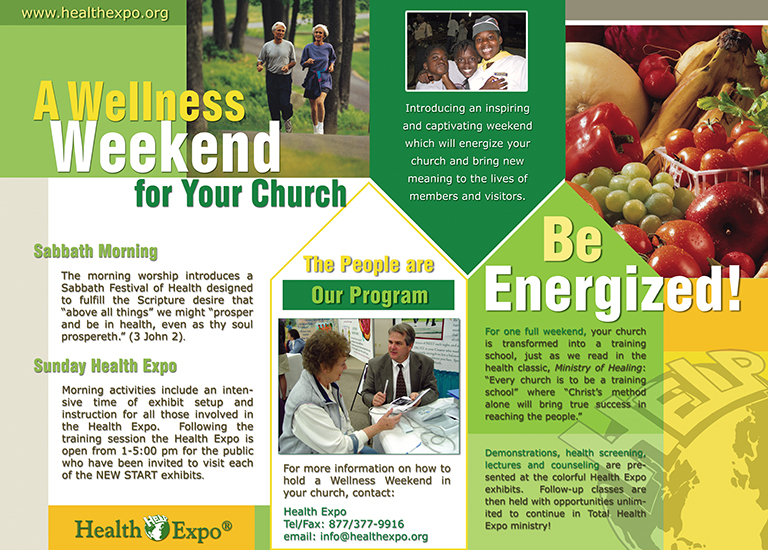 THE PEOPLE ARE OUR PROGRAM
For one full weekend, your church is transformed into a training school, just as we read in the health classic, Ministry of Healing: "Every church is to be a training school" where "Christ's method alone will bring true success in reaching the people." You will be following the Divine Design as spiritual, mental, physical and social well-being are themes presented with practical and attractive demonstrations, displays, sermon and song. Your church will become a center for health evangelism as members of all ages and professions unite together to prepare and present a weekend of inspiration... education... motivation. 
SABBATH MORNING
The morning worship introduces a Sabbath Festival of Health designed to fulfill the Scripture desire that "above all things" we might "prosper and be in health". (3 John 2).  Children are active in the Sabbath School presentation of NEW START for Kids. The worship hour includes the theme of healthful living through Scripture, song and the spoken Word.
SABBATH LUNCHEON
Following the church service a fellowship luncheon prepared by the church members demonstrates that eating for health can be a delicious, easy-to-prepare experience.
COMMUNITY CONTACT
A special feature following the luncheon is a presentation of the spiritual aspect of each exhibit through the Faith and Fitness series. The afternoon activities include visitations in the community and handbill distribution.
SUNDAY HEALTH EXPO
The Sunday Health Expo begins with a morning planning session, an intensive time of exhibit setup, instruction and preparation for all those involved in the Health Expo. In the afternoon from 1:00 - 5:00 p.m. the Health Expo is open to the public who are invited to visit each of the eight exhibits arranged on the NEW START theme. Demonstrations, health screening, lectures and counseling are presented in the exhibits. Follow-up classes are then held with opportunities unlimited to continue in Total Health ministry!
If you would like further information regarding a Wellness Weekend in your church contact:
Tel/Fax: (877) 377-9916
email: This email address is being protected from spambots. You need JavaScript enabled to view it.